Banners
We Print & Supply Banners
McDonald Signs supply and print banners, they are perfect advertisement for events and sales and can be printed in high-resolution full colour graphics. An excellent option for exterior signage they are durable, re-usable and offer a superior finish. They can be sewn with reinforced brass eyelets and folded sewn hems from non-tear superior strength industrial PVC, or unsewn for a more temporary use.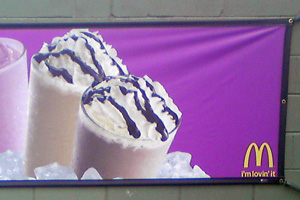 Features
Banners are one of the most versatile types of signage offering an ideal solution for businesses, schools, hospitals, street signage, shopping centre, exhibitions, billboards etc Presenting a huge range of applications both short and long term, indoor and outdoor with full colour or just simple text
McDonald Signs has its own in-house banner fabrication department
Banners can be either stock standard run of the mill single sided coming in a myriad of colours or premium banners. Standard can be trimmed to size with hemmed edges, ropes and eyelets and printed on basic PVC, thick paper or woven tyvek. Premium can be double sided and printed on quality ultra smooth PVC with a thin block out layer between sides. Another option, proving to be extremely popular is the flex face fabric banner with edging and sail track installation. This method creates a sleek, smooth fully taught low-glare surface and suitable for most flat and slightly curved surfaces
To create a far superior and uniform light transmission for stunning high intensity images we can digitally print directly on to backlit flex face banners for light boxes.
---
Sample Gallery | View some examples